A note from the Editor
Whether I am teaching in the US, the Netherlands, France, or Kuwait, whether I am discussing topics in service management, tourism, hospitality, leisure, or recreation studies, I find myself facing the same problem: there is a striking gap of information and theories pertaining to the Arab/Muslim consumer. "Sir, this theory is based on Western consumers. Can you explain how and why the Arab/Muslim consumer behaves this way…?" "Professor, I am writing my thesis/dissertation about the relationship between organization citizenship behavior and employee engagement in hospitality in my country, but I can't find information/data…" "My dear colleague, I have a few case studies which I have written with MBA students. They are important but not interesting enough to be published in a ranked journal. Reject, reject, and damn desk-reject! (...) They are now sitting on the shelves in my office feeding the dust. I am, however, certain that their impact factor could be considerable." I have no doubt that many of you will find such claims very familiar and disturbing. The idea of developing a journal focused on the Arab and Muslim consumers in our academic field has been festering in our minds for too many years. It's about time to do something about it. We need to progress. We need to innovate. We need to equip our graduates with the knowledge and research skills to remain competitive, produce and prosper.
I am sending out a call to colleagues all over the world to participate with us in this timely project.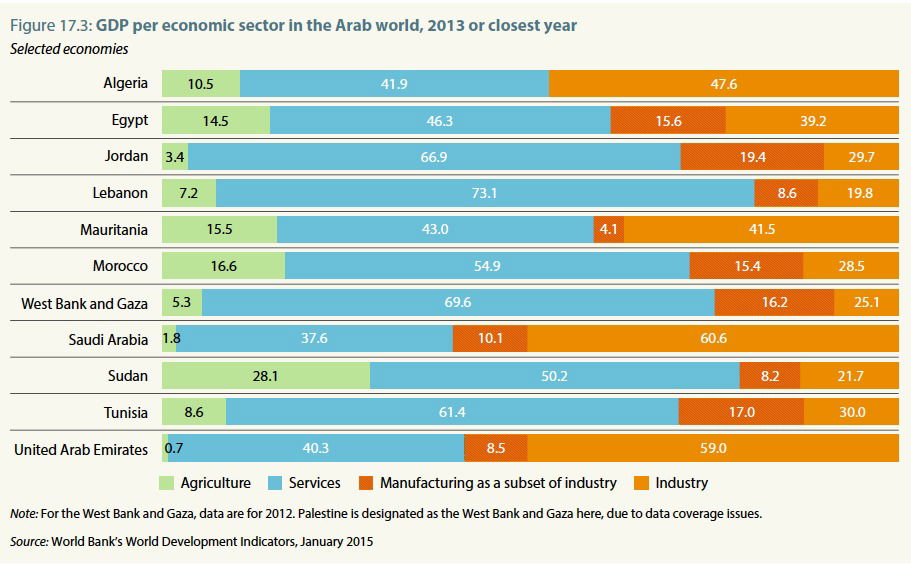 Source: UNESCO Science report: toward 2030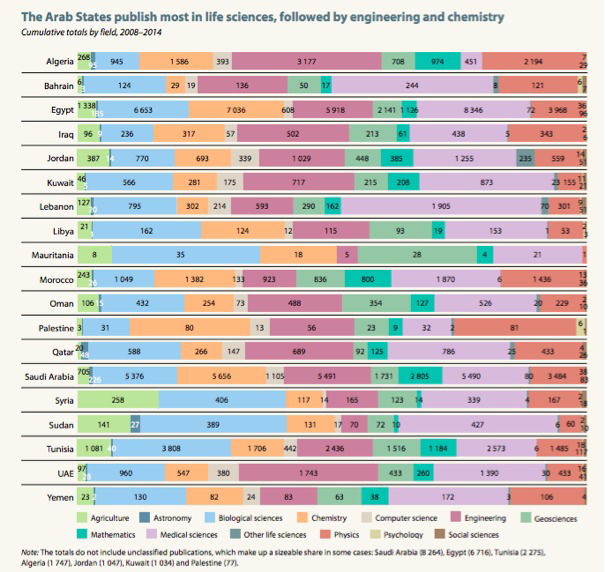 Source: UNESCO Science report: toward 2030
According to UNESCO It is noteworthy that the greatest number of scientific articles per million inhabitants in the Arab world in 2014 came from two oil-rent economies: Qatar and Saudi Arabia. Along with Algeria, Egypt and the United Arab Emirates, their output has grown faster than that of any other Arab country. Qatar and Saudi Arabia also have the region's highest citation rates. This trend may be partly due to the leap in international co-authorship since 2005 in Qatar (from 59% to 92% of articles) and Saudi Arabia (from 42% to 80%), which was greater than the regional average: two-thirds (66%) of articles from the Arab region had international co-authors in 2014, compared to 44% in 2005. Both Qatar and Saudi Arabia have put incentive measures in place in recent years to attract foreign researchers to their universities. Also of note is that scientific output grew faster in the Arab world (+109.6%) between 2008 and 2014 than in any other part of the world, pushing up the region's share of articles from 1.4% to 2.4% (UNESCO Science report: toward 2030).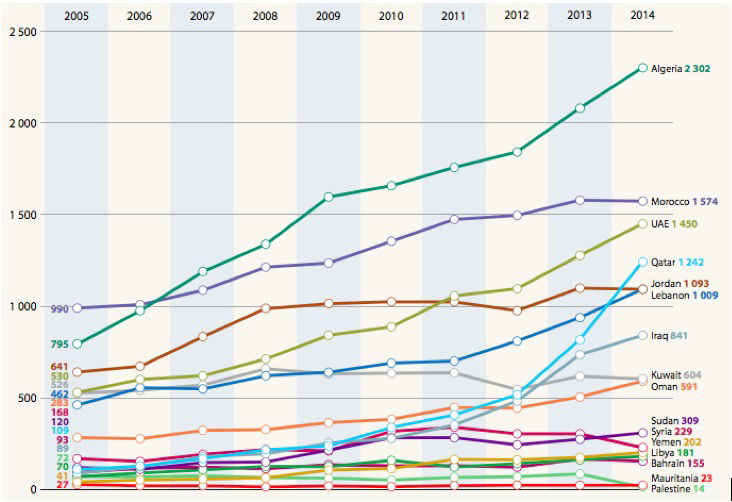 Despite the progress made, the region shies away from representation in knowledge development and the sharing of knowledge about the Arab and Muslim world. Teachers, academics, managers, and policymakers struggle to find statistics on which to base respective activities. Longitudinal data are basically non-existent. Even descriptive statistics is a rare commodity. We need longitudinal data, we need descriptive statistics, we need a systematic inquiry to build knowledge. We have started, but we have yet to begin, to begin consolidating our knowledge in a systematic manner. Progress is based on a solid ground.
There has been a significant increase in the number of studies investigating cultural influences on consumer behavior in services, particularly in Australia, the USA, Europe and New Zealand. However, despite the tradition of rich culture and hospitality, despite the importance of services to the economies of Arab/Muslim countries, despite the natural and cultural resources with which Arab/Muslim countries are divinely endowed and despite the popularity of tourism, hospitality and cultural heritage in these countries, studies focusing on consumer behavior in the Arab/Muslim countries whether inside or outside their country of residence are still sparse. This journal aims to encourage research and stimulate academic discussion about consumer-related behavior in this part of the world.
As we all know, the Arab world is composed of many countries and so is the Muslim world. There are Arab people who are not necessarily Muslim and Muslim people who are not Arab. For a long time, Western scholars have been ignoring the study of Arab/Muslim world and academic dialogue occurring in the context of Arab/Muslim cultural phenomena. This neglect affects the whole field of service studies. Westerners are still having stereotypical images of the Arab/Muslim world. Information about what, who, when, how, and why Arabs/Muslims do what they do when they do it is needed. Arab, Muslim and international academics, practitioners and students have long acknowledged this gap during academic and industry conferences. How do Arab/Muslim consume and behave is under-researched and remains speculative at best, despite the growing spending power of this market and its diversity. A quick scan of major service academic journals supports the paucity of existing articles on consumer behavior regarding Arab/Muslim consumers.
A call for concern
A call for theoretical, empirical/research-based and practice-oriented papers was sent to major tourism and hospitality academic networks. Nevertheless, despite the generic nature of the themes and the multiple attempts to encourage submissions, the response to the call remained small. Out of the few proposals received, we have been able to select only five papers. Our speculative reasons concerning the lack of submissions include: lack of interest in the topic by international academics, lack of funding for this type of research, a general lack of interest in tourism and hospitality research from domestic universities. Furthermore, the exploratory nature of the research, although needed, might be perceived to be too simplistic and thus is not easily accepted by mainstream academic journals. Another reason could be the desire of and pressure on academics to publish in high-ranked journals. In addition, non-English speaking academics encounter language difficulties to publish in English academic journals. Funding for proofreading and editing is not always accessible. Generally, Arab and Muslim countries "face a host of hurdles, including a lack of focus in research priorities and strategies, insufficient funding to meet research goals, little awareness of the importance of good scientific research, inadequate networking, limited collaborative efforts and brain drain. It is clear from available statistics that countries will need more sustained government support in future, if they are to strengthen university research, overcome weal university-industry linkages and give university graduates the professional and entrepreneurial skills to create viable national innovation systems (UNESCO Science report, p. 438).
There is a healthy need to encourage competition and cooperation among and between Arab/Muslim universities, academics and researchers/practitioners to produce knowledge about their respective countries. There is also a need for synergy among research institutions to produce impactful research. It is the hope of this journal to stimulate coopetition between and within Arab/Muslim countries to create knowledge, share and disseminate knowledge about who they are and what they do for a better understanding of their perceptions, attitudes, and behavior. Such information can be helpful also for a constructive, objective, and representative dialogue between East and West.